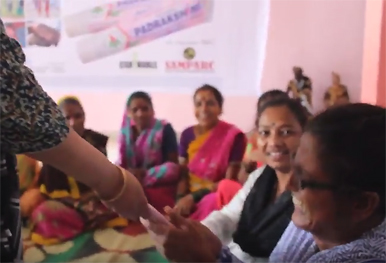 Most poor women in rural India walk in their bare feet. As a result, over time many develop cracked heels due to exposure to dry conditions. The cracked heels that are not treated can result in deep wounds causing bleeding and potentially having maggots attacking their heels. This continued painful condition forces these women to shift their weight while walking, resulting in a change of posture often causing back issues.
These serious health conditions over time result in decreased mobility and thereby drains the immune system by causing undue stress on the whole body. These debilitating conditions also begin to affect family and community life.
Heal the Heels of India focuses on freely distributing a simple low-cost fast-healing solution for poor rural women suffering from cracked and infected heels and feet by providing them with a natural highly effective and emollient Lanolin-based Ayurvedic cream created by Dr. Willo Jordan Walker Michael Weiner and Ashok Shinkar. The cream helps in both healing cracked and infected heels and feet and also in maintaining this healthier condition going forward.
BENEFITS
Women

Repair and restoration of cracked heel/ feet conditions.
Prevention of further health complications that may arise from cracked heels/feet if condition was to continue to deteriorate.
Overall improvement of health
Increased feeling of well being
Increased mobility, productivity
Increased ability to do work in family and community with improved feet function/health
Family
Less stress and reliance on other family members to care for women, perform family duties or chores with improvement of women's health.
More overall harmony and well being in family unit with increased health/ mobility of the effected women.
Community
Increased productivity of Healed women in their respective village communities