Heal the Heels of India is a non-profit project undertaken in collaboration with other benevolent village-oriented health and healing organizations in India.
The project is presently focused on creating a low-cost, fast-healing solution for poor rural people in India — mainly women— by providing them with a highly emollient and effective herbal Ayurvedic, Lanolin-based cream created by Dr. Willo Jordan Walker, Michael Weiner and Ashok Shinker.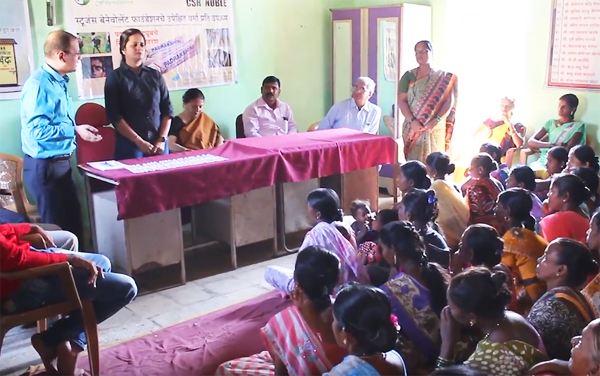 This cream has been proven to rapidly assist in healing cracked and infected feet and heels and also continue to maintain them in a more normal, healthier condition . We undertook this project as we see cracked feet and heels in India as a significant health concern, as many people in rural areas walk barefoot on unsanitary ground, and dry and cracked feet and heels make walking difficult for these people and leave them open to more serious infection.
PROJECT GOALS
1) To provide several weeks supply of free GMP pharmaceutical grade Lanolin-based tubes to poor, underprivileged rural Indian people who have severely cracked and infected feet and heels.
2) To significantly facilitate the healing of severely cracked and infected feet and heels of large numbers of poor rural people in India and improve their health and mobility in their daily life activities.
3) To provide related health and hygiene guidance and protocols to these people that they can follow as they go forward in their daily lives. This will assist them in maintaining healthier feet and heels for themselves, their families, and larger communities.
The cream will be distributed through rural health and healing initiatives already being carried out by existing public and private agencies and groups operating in rural Indian villages.
The highly effective and emollient Lanolin-based cream is packaged in small, easy-to-carry tubes, together with application instruction information, and guidelines for continued foot/heel hygiene.
Heal the Heels of India provides a turnkey package of products and information for these agencies, that will allow the agencies to efficiently and economically disseminate our products to the rural villages and communities these organizations are currently servicing, or plan to service, in the future.
FINANCING
The Heal The Heels Of India project currently depends upon the donations of benevolently empathetic individuals and organizations who are drawn to help us to achieve our goals and objectives.
To help continue to move our project forward, please donate.